Rebuilding and Upgrading Envelope Machines
Halm Envelope Machine
- Machine is dismantled from 70-90%
- The frame is cleaned by pressure washer using baked soda attachment.
- All the parts in contact with paper are renewed.
- The belts, chains, bearings and rubber rollers are also renewed.
- If the jet is an older model we will upgrade it with timing belt and outboard drive.
- It will be upgraded with dual solenoid as well.
- The feeder chains are upgraded with the timing belts.  This makes the machine run smoother higher speeds and reduces the risk of jams
- The mechanical cam that works in conjunction with photoeye is switched to an electronic cam.  In order to change settings from 1up to 2up or 4up, you just need to change the settings on the screen (below).
- All the electrical solenoids are upgraded to air. It reduces the noise, eases maintenance and  is much cheaper to change if a problem occurs.
- The alpha numerical screen gives you simplicity and high control over your machine's settings.
- You can set the number of the batch envelopes
- It immediately shows operator the location of any jam.
- You can also set the number of envelopes you want to print and when the machine reaches that total number of envelopes, it stops automatically.
- The electrical box is 100% new. All relays are replaced by PLC.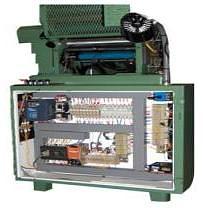 Here is a video of a Halm Super Jet fully rebuilt and upgraded by Curtius.
Our R&D Department had developed numerous mechanical and electrical upgrades, that had made possible to incease speed, reduce paper jams and transform production lines into a more cost-effective enterprise.
Read an in-depth description of the Halm envelope machine
The following links offer the latest upgrades developed for each envelope machine model: